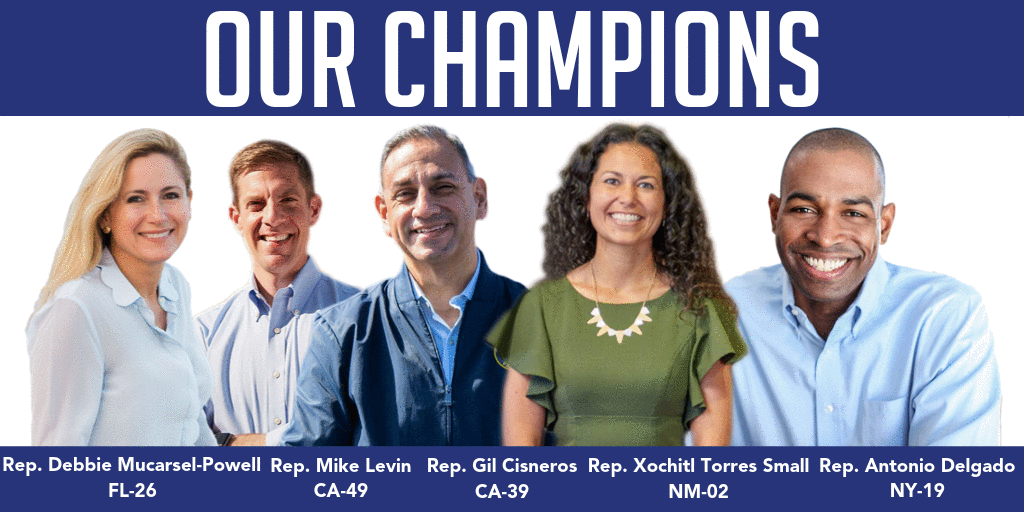 In the 2018 midterm election, Latino Victory Fund played a key role in electing the most diverse class ever to the United States Congress, and in helping the Democrats take back control of the U.S. House. We helped elect five new Latino Democrats, flipping some of the nation's most competitive districts from red-to-blue in the last election cycle.
To ensure we keep these members in Congress, Latino Victory launched an unprecedented incumbent protection program called "Our Champions." These Champions are our community's voices in Washington. They are working to ensure that Latinos are fully represented and to enact policies that support hardworking families in their districts and across the country.
Congressman Gil Cisneros flipped a key congressional district and helped turn Orange County blue last election cycle. Winning this seat wasn't easy. In fact, Cisneros was not declared the winner until two weeks after the election. The candidate who Cisneros defeated last cycle is running again, and Congressman Gil Cisneros is going to need all of our help to win his re-election.

Learn more.
Once a Republican stronghold, Democrats flipped every Orange County seat in 2018, and it was because of candidates like Congressman Mike Levin. Levin became the first Latino to hold that seat. Keeping the majority in the House depends on re-electing Levin in 2020.
Congresswoman Debbie Mucarsel-Powell unseated a two-term Republican incumbent in one of the most Democratic districts in Florida. Mucarsel-Powell did so by presenting a clear contrast between her challenger's policies and her own. Now, Republicans are eyeing this diverse district as a prime target. With a district that includes one of the most expensive media markets in the country, Mucarsel-Powell will need all our support to ensure she is re-elected in 2020.

Learn more.
In a district that President Trump carried by 10 points in 2016, Congresswoman Xochitl Torres Small made history in 2018 by becoming the first Latina to represent this district. It wasn't an easy win, in fact, the race remained too close to call for several days after Election Day. Torres Small clinged to victory by a narrow margin, making this race a top priority for Latino Victory as we head into the 2020 election.
Despite Republicans spending millions of dollars in racist and misleading ads during the 2018 election cycle, Congressman Antonio Delgado defeated the one-term incumbent. Delgado knows the needs of his vast district because he has made it a priority to make himself accessible to all his constituents. Republicans will undoubtedly run the same old playbook in the 2020 election It is critical that we help debunk their lies and uplift all that Delgado is doing for NY-19.

Learn more.